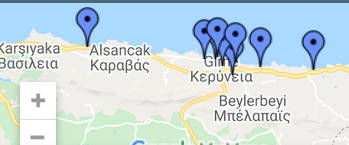 On our casinos in Cyprus map you will find the most important and largest Cyprus casinos including address and route. In addition, you will be shown the exact distance to the Cyprus casino you have selected. You can find more information about the individual casinos and their offers here. Some of the casinos have also written and published a review. So you can get a more precise impression of the casino offer
Casinos in Cyprus map
Online casino Cyprus
If you don't have time to go and visit one of the Cyprus casinos on offer, or if you prefer to play comfortably from home, the online casino Cyprus offers you all the options. Here you will also find the latest casino games, also classic games and the most modern slots with an interactive range of games and many additional bonuses. For your registration in one of the licensed casinos you will receive a high welcome bonus
Casinos in Cyprus
The Acapulco Resort Hotel Casino is one of the biggest Casinos in Cyprus with a great selection of lastest casino games:
The Merit Crystal Cove Hotel Casino is just as large and important with many table games and a large number of the most modern slot machines. The staff at this casino are also very friendly and helpful.
C2 Casino  in Nicosia
The Cyprus Casinos C2 in Nicosia also has a large following. Here you will find everything your gamer heart desires, whether roulette, blackjack, baccarat, bingo, keno, slots or many other classic and modern casino games.
Casino Paphos
The Casino Paphos ( C2 Pafos Casino ) is a very clean and well-maintained casino with a wide range of games. Only the restaurant in Casino Paphos is a little on the small side. This should be enlarged for the casino visitors.